FLOWER GUIDE TO A WHITE + GOLDEN PALETTE
With golden and yellow tones being very on trend right now, we saw it as an opportune moment to share this white + golden photoshoot we participated in last year, led by Vanity Affair Events and photographed by Carlos Hernandez. Creating a striking palette with golds and yellows can mean going all out with a totally monochromatic approach, or using neutrals and white with touches of golden hues. I loved Vanity Affair's vision for this photoshoot's design: incorporating a striking, golden Tamarind velvet tablecloth from La Tavola Linens, liberally complemented by classic white accents. If you are naturally drawn to a more reserved and classic wedding design, pairing a predominately neutral color scheme against a single focal element of color, like a bold tablecloth, is a supremely subtle way to implement just a touch of color.
Prior to placing a flower order, we thoroughly reflect upon the design parameters of our client's wedding and then ask ourselves a few questions:
What style is meant to be achieved? Garden style? Contemporary? Sculptural? Bold, ethereal, minimal?
Are we going for soft or hard lines?
Will this design be viewed from afar or will it be up-close and personal for the guests to experience?
What colors & styles will non-floral elements be? Such as tableware, linens, bridesmaids' dresses, invitation suite, platters, etc.
Vanity Affair Events wanted this design to remain realistic and completely accessible for any real couple planning a wedding, while also being different and striking. With the inclusion of the bold linen, which presents a more contemporary look, we decided to use more garden-styled blooms; a nod to classic, traditional wedding floral design. Since centerpieces and bouquets are viewed in an up-close and personal manner, we were sure to add tiny detail textures such as explosion grass, sweet peas and dried golden fern.
CLAIRE AUSTIN GARDEN ROSE
A fragrant, round and ruffly cream garden rose - this large surface area can effectively soften the overall feel a design. We love manipulating the soft, curving stems into patterns of motion within the design, which transfer the eye of the beholder about the floral piece resulting in the sensation of movement.
Scabiosa are magnificent blooms which add curious detail and shape to your designs. We preserve the length of the stems, so as to add great depth to our designs - placing them front and center, as though exploding wildly from the vase.
We cherish life in the Pacific Northwest for many reasons, one being the bountiful foliages and variety of flowers that can be foraged from nature. Abundant are the patches of Dried Golden Fern and the slightest addition can have a huge impact on a design.
White Strawflower is a pearly little treasure that is a perfect design element when finer details need to be noticeable and when textural variance is necessary. For this photo shoot, we were adhering to a more traditional floral selection however the addition of Strawflower subtly enhanced the overall feel adding slightly more complex characteristics.
The Combo Rose is a true rarity, as the color tones that it radiates are SO DIFFICULT TO FIND. When you want to include a mustard-gold in your wedding, you will almost always need to include one of a very few rose varieties that offer such a tone - the Combo Rose being one of them. They are very hardy, have an immense bloom with thick petals that you can easily reflex, and a long, sturdy stem; all reasons why they are perfect candidates for outdoor weddings and installations!
These delicate ladies give any design a whimsical and airy look. The golden centers and white petals are ideal for our photoshoot palette, a fitting liaison between the white and golden tones in our overall color theme.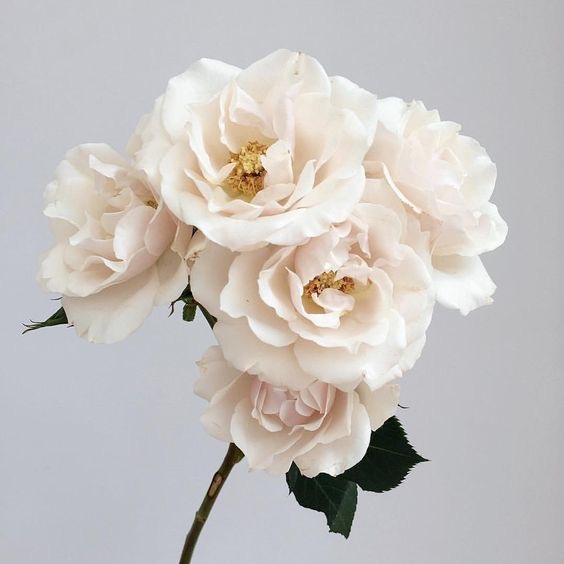 Oh, the White Majolica! These creamy spray roses are used by many a florist for all types of designs. They open wider than other spray roses and boast a lovely golden center, similar to the white cosmos. They tend to be on the pinkish side, so are great if you want to add some tonal depth to your whites. Not to be relied upon if you want a stark white palette, as you might end up with a bunch that are just plain pink!
As aforementioned in this post, if we know a floral design is going to be interacted with and photographed up-close, we always adorn our designs with the tiniest of ornamental details, often using explosion grass. We peel away the green leaves, leaving the tiny exposed seedlings. Used sparingly, these delicate details can transform a design!
Sweet peas are an absolute must, when in season. We love using sweet peas in just about any design style - whether it's contemporary and sculptural or for texturizing a traditional design. Wonderful for adding shape to a design or for rendering a softer overall feel. The lengthy, wiry stems can also be used to direct and move the eye about the entirety of your design.
The Blackberry Foliage pictured here is a bright green but can be sourced in variety of shades, hues and tints. We foraged for a color tone that would suit our photo shoot theme. An aged blackberry patch nearby, with many broken and dried-out branches, presented the perfect tonality of golden, peachy brown. We were ecstatic to have happened upon them and planned to implement them as the final touch to our design.
NOW FOR THE FINAL PRODUCT!
THE VENDOR TEAM:
READ MORE SELECTIONS FROM OUR FLOWER GUIDE SERIES…
Check out more real weddings…