PORTLAND VENDOR GUIDE | CARTA PLENA
Welcome to our first Portland Vendor Guide. We are so happy to start it off by spotlighting Camila Dias, the heart and soul of stationery design company, Carta Plena.
We were immediately struck by Camila's handiwork during our early explorations for local craftspeople and vendors after having relocated to the Portland area. Her sophisticated and contemporary designs stand apart from the crowd and are consistently executed with impeccable attention to detail and a joyful inventiveness for composition. She has a keen, masterful eye for color which makes working with her thoroughly and visually rewarding. When collaborating with Camila, it's markedly apparent that she strives to manifest truly unique design concepts. Her stationery design work is refreshingly inspirational and, on top of that, genuinely functional art. Additionally, Camila's disciplined and artful expression of the Carta Plena brand, via her website and social media, is as fine-tuned and on-point as her control over shapes, space, forms and lines. We are excited to now take a deeper look at Carta Plena!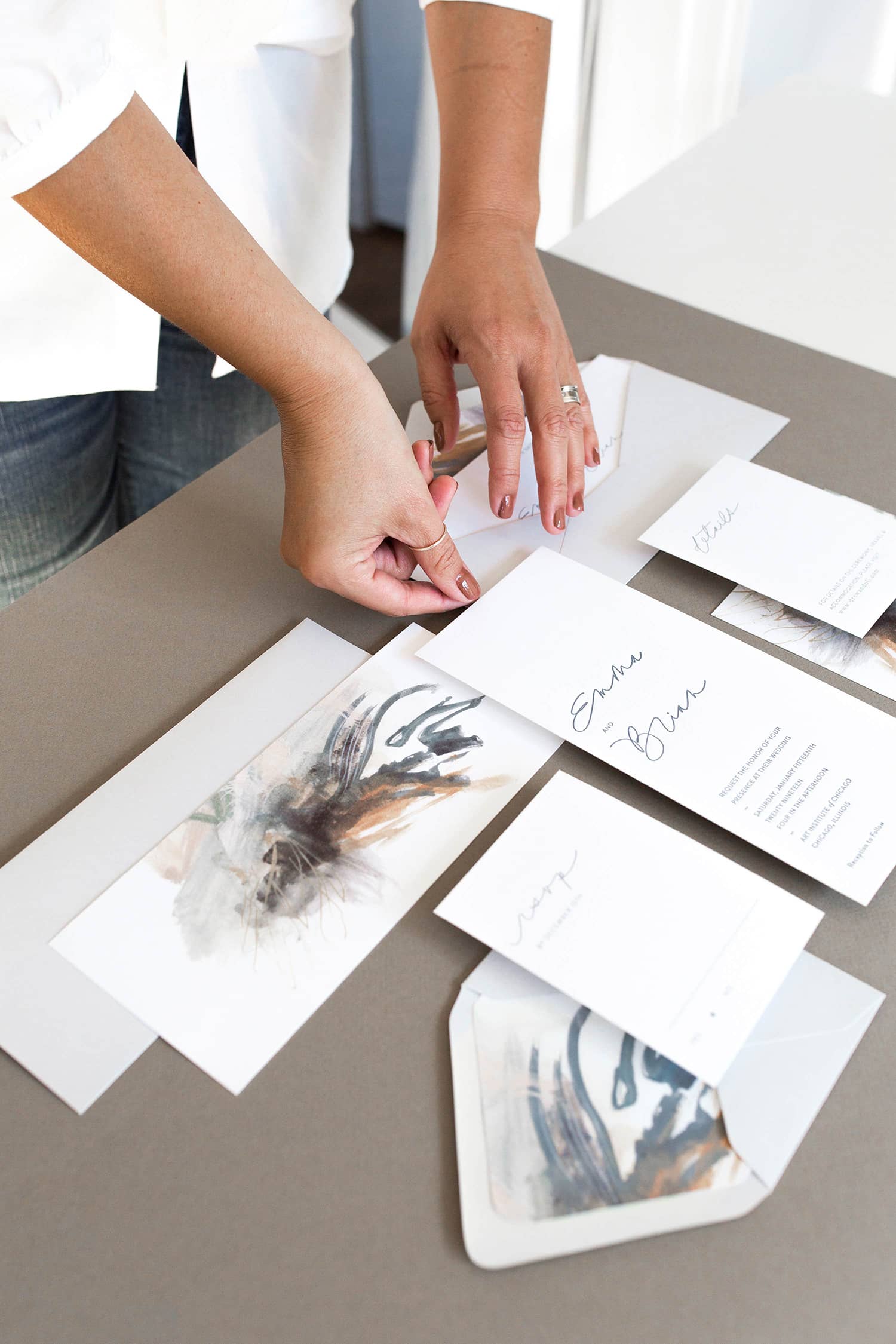 Can you describe the full scope of your job so that readers and clients can understand everything it means to be a stationery designer?
"Carta Plena is a boutique design studio led by art director & designer Camila Dias. We specialize in intentional wedding ephemera and evocative designs, offerings a range of services, from refined wedding invitations & reception pieces to sophisticated brand designs for creative entrepreneurs. Our clients work directly with me, Camila and I'm the one taking care of the communication & design. I acknowledge that when it comes to stationery, there are lots of decisions to be made and an array of options to choose from, so I make sure to guide and assist our clients every step of the way. We suggest the best options for their project & budget, and present our clients with paper samples and color swatches to help them understand the differences in materials and try to explain the limitations and constraints that apply to different printing methods. There is a lot of "heart & soul" in this business - I am personally involved in the entire process and put much thought into connecting my couples with distinctive designs for their weddings and values the relationships I form with with them during this intense and personal collaboration. It is a very time consuming work and often expensive not only because of the one-on-one personalized service we offer, but because of the level of quality materials we use and the attention to details that make our products distinctive and refined."
What led you to create carta plena?
"Like many others in this industry, I was introduced to calligraphy first, and absolutely fell in love with it. As my work progressed, I started venturing into invitation design and that's when it became obvious to me that stationery design allowed me to merge my background in design with my passion for papers, typography, calligraphy, color and creative collaboration."
How would you describe your ideal client?
"I'd say Carta Plena's ideal clients are people looking for an elevated and innovative aesthetic. Everything we do (apart from our semi-custom line) is bespoke, so we want to partner with clients who share the same vision as us. Our ideal clients trust our expertise and see value in design & quality. They understand this isn't a fast production company with many employees - but rather a small studio, where we are personally involved in an intimate collaborative process and that one solution does not fit all."
Stationery design allowed me to merge my background in design with my passion for papers, typography, calligraphy, color and creative collaboration
What is a piece of advice you'd like to give to all the potential clients out there when searching for a stationery designer?

"1. Do your research prior to contacting your stationery vendor - make sure the designer's aesthetic fits the style you're looking for and that their service costs aligns with your budget.
2. Don't wait until last minute to contact your stationery designer - often times, design studios are booked months in advance.
3. Make sure you click - hop on a phone call and talk to your designer, ask questions and see if the connection is there."
How many months IN ADVANCE do you suggest THAT a client book a stationery designer for their event?
"We book our projects on a first-come-first-serve basis and only work with a limited number of bespoke clients each year to ensure the exclusivity our clients deserve. We encourage potential clients to book us as early as possible (to ensure availability on our calendar) - ideally 8 - 10 months prior their wedding (for full custom service) and 4 - 6 months for semi-custom services."
"FINDING YOUR 'TRIBE' IN THE INDUSTRY IS IMPORTANT"
What does your creative process look like when working with a client from beginning to end on their stationery design?

"We have a very bespoke & intimate approach to design - which is very similar whether we're developing a bespoke invitation or designing a brand identity.
In the instance of wedding stationery, our collaboration usually spans between 3-4 months at a time. We work with our clients very closely, guiding them through a fine-tuned process that uncovers nuances of their story as a couple and details of their wedding theme that will serve as inspiration for their unique invitations.
The design process starts with a comprehensive brief and a design board highlighting the aesthetics, inspiration, and details for their project. We then begin by developing the initial design concepts and will work through fonts, colors, paper choices and print methods together during the revisions. Upon approval, we will fine tune each piece of their stationery suite and prepare the file for print production.
Once we receive their invitations from our trusted printers, we will inspect each and every card and make sure everything is assembled and carefully packaged to be delivered to them securely and flawlessly.
We believe that by harnessing their distinctive qualities and personal aesthetic, we're able to craft a distinctive and evocative layout for their wedding ephemera that is representative of their style and cohesive with their wedding theme."
Where do you find unlikely inspiration?
"This is a good question. It's so easy to get lost in Pinterest and Instagram and daydream away. As much as this is unavoidable, I find inspiration by looking elsewhere - I try to get inspired by nature, objects, fashion, architecture and travels; paying special attention to how elements such as expressive colors, patterns, and dynamic composition converge together to tell our clients' distinctive story."
What major obstacles have you run into while operating your business as a stationEry designer and how have you overcome them?
"I think one major obstacle was to learn (and continuing to learn) the business side of things. This isn't necessarily exclusive to our industry, but one that affects any small creative business. I hired professionals and enrolled in courses to learn about finances, bookkeeping, pricing and everything it takes to run a successful and profitable creative business."
What does your daily routine look like?
"This is a tough one - I have a very unorganized way to go through my day but I seem to find order within my chaos - this is not ideal and it's something I want to change and improve in 2019 - I want to find a rhythm that works for me and try to stick to it. But in general, I try to fit design/intricate tasks early in the day & week because that's when I'm mostly focused and energized and do more ordinary things later in the day. As the day/week progresses, I tend to get tired and notice a shift in my concentration and ability to perform certain tasks. I'm learning that batching certain tasks and having a streamlined automated process in place is key."
Looking about 5 years ahead, what do you suspect will be the next big change in your industry?
"Well, hard to say, but it's no secret that millennials are revolutionizing the wedding traditions - they're marrying later in life, their weddings are becoming more intimate, intentional & personalized and inevitably, technology is playing a major role in how they plan their wedding.
Although, there will always be a market for luxury in the wedding industry and people who prefer traditional paper and it's tactile property - there is another characteristic about this generation that values convenience, instant gratification and affordability.

I do think there will be a major shift towards digital invites in the future, especially with digital invites becoming more creative and daring nowadays. Besides, digital invites support an environmental concerns since there will be an increased focus on sustainability."
If you had a list of "best-kept secrets" (websites, books, coaches, etc) THAT you'd recommend to other small business owners, which would you include and why?
"I owe a major part of what Carta Plena is today to an incredible community of stationers & creatives alike - finding your "tribe" in the industry is important, people who understand the ropes of the business and the struggles that come with it and are able to support you along the way.
Also, educate yourself as much as you can - do your research - google has an enormous amount of free information. I also recommend looking at courses, workshops, books that will keep you well informed and give you the tools to hone your craft and help you elevate your work.These are the ones I tested and recommend it:
The Aesthetic Way by Emma Natter (online course), The Blueprint Model by Shanna Skidmore (online course as well as 1-on-1), Copyright for Creatives by Ashlyn Carter (online course) and Various mini courses from Design House of Moira by Victoria Rothwell (online course)"
▲
Check out the Carta Plena website for more information about bespoke designs, the semi-customized wedding collection and unique editorial designs.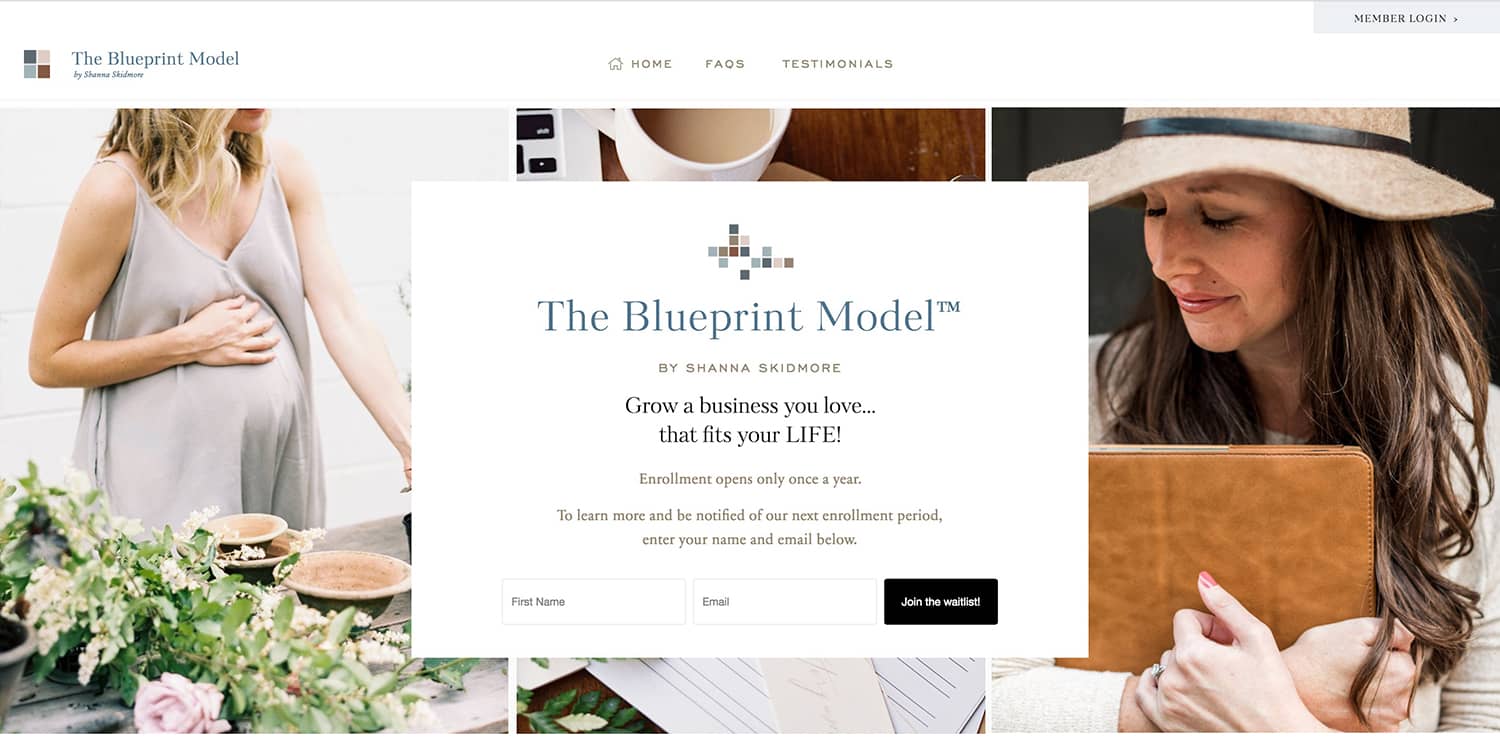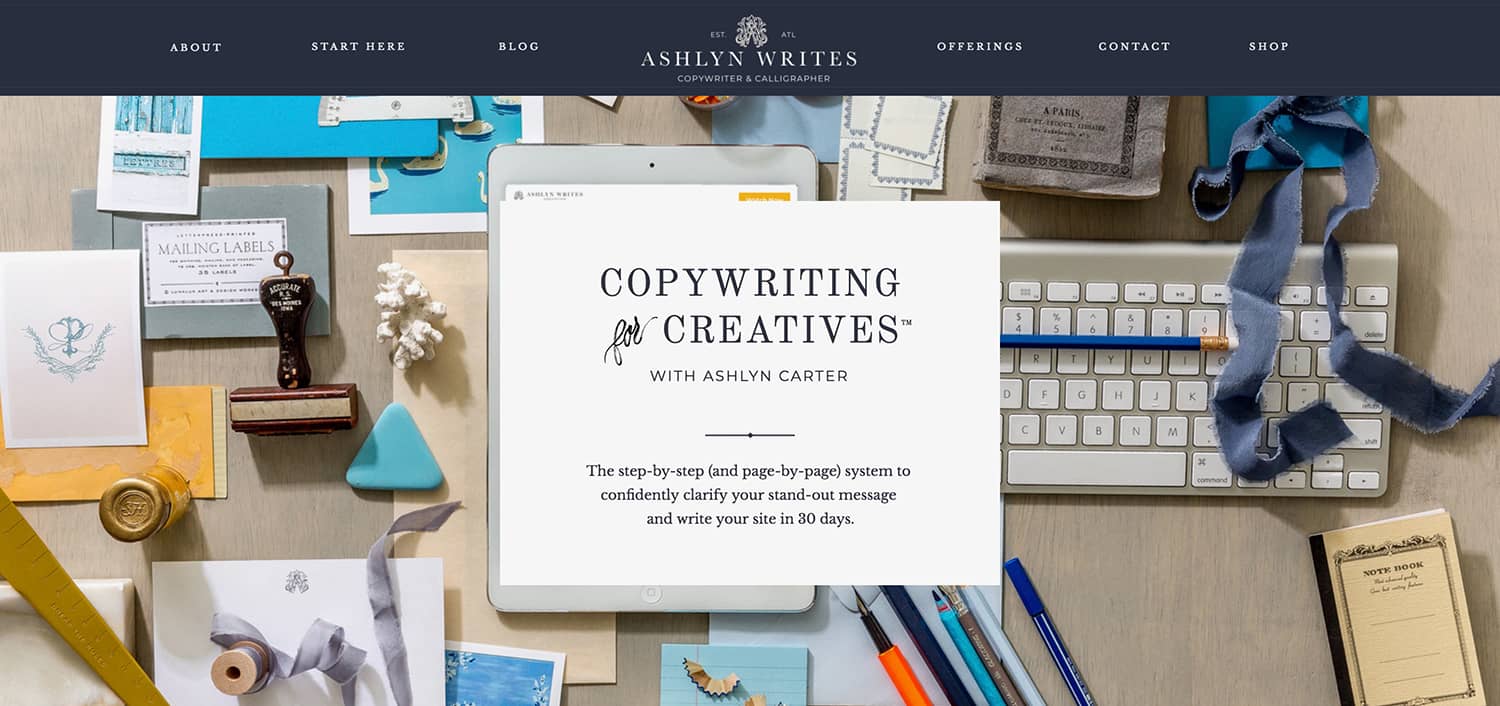 Copywriting for Creatives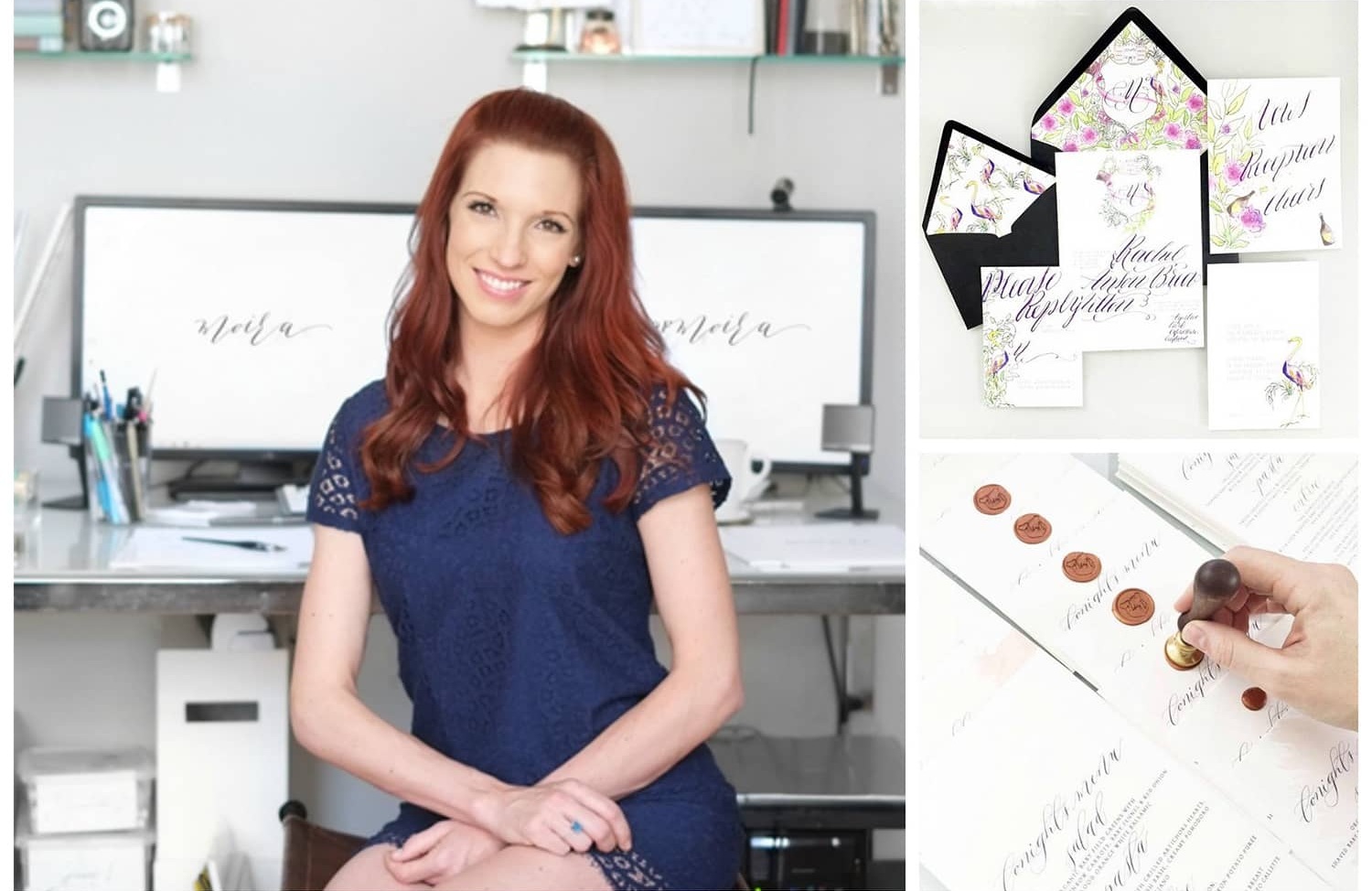 READ MORE from our PORTLAND VENDOR GUIDE SERIES…